Over the last few weeks, the Democratic party of Barack Obama, Nancy Pelosi, and Harry Reid has willfully destroyed the educational opportunities of thousands of inner-city black children through fraud and deceit, in exactly the same way as the vicious and evil racists of the KKK did when barring the doors of schoolhouses and colleges to children whose only crime was the color of their skins.
This charge is shocking and horrifying. It is not a charge we make gladly. Regardless of our political differences with Barack Obama and his Democratic majority, and our adamant belief that the path they would have America walk leads towards the destruction of all that makes America what it is, we have no wish to believe that the President is personally an evil man or that he heads a party of evil men and women.
But the news regarding the Washington, D.C. voucher program finds us fast running out of plausible alternative explanations.
"Education Secretary Arne Duncan ... let Congress kill a District of Columbia voucher program even as he was sitting on evidence of its success."
- The Wall Street Journal
News junkies and regular Scragged readers may recall the story: a Republican-sponsored effort some years back provided a limited number of scholarships to poor students trapped in the Dickensian hellholes of the DC public schools. These "scholarships," vouchers by any other name, allowed the lucky few recipients to be educated in expensive private schools instead.
To the surprise of no one save liberals, the scholarship program was overwhelmingly oversubscribed with the eventual winners chosen randomly by lottery. Since then, around 1,700 of DC's tens of thousands of ill-educated students have benefited each year.
This program provided a rigorous test to determine whether private-school vouchers do, in fact, result in educational improvement. Teachers' unions and the left have long argued that they don't help the kids who get them and harm the remaining public-school students by starving public schools of resources.
A comparison of test scores between public and private schools, on the other hand, would argue that private schools do an immeasurably better job of education. Liberals respond that private-school students come from families with more wealth and privilege than the norm; it's not unreasonable to suppose that the kids might simply be smarter just as their successful parents presumably are.
As part of the voucher program, the law provided for careful tracking of the selected students, all of whom came directly from the ranks of the impoverished and unsuccessful. Once and for all, we would find out whether private schools benefit underprivileged ghetto children, or not.
What's more, this test cost nothing for the public schools; the voucher money was paid for by extra funds, and the amount spent on each child was significantly less than the per-student cost of the regular public schools anyway.
Unfortunately, teachers unions did not really want to find out the answer scientifically; they must have known what the result would be. With overwhelming Democratic majorities in Congress beholden to unions, the time was ripe to strangle this voucher program before the study results could be released.
That's what happened: Congress voted the vouchers out of this year's budget. Based on Mr. Obama's campaign promise to do anything that could be proven to work, we called on him to demand that funding be restored.
Alas, he didn't, on the grounds that there still wasn't proof that the program worked. So close, but yet so far; another saddening setback to the worthy cause of effective education for all, especially our least fortunate citizens.
We thought that ended the tale. The Wall Street Journal nobly felt otherwise. They continued to investigate - and what a bombshell they uncovered.
Education Secretary Arne Duncan did a public service last week when he visited New York City and spoke up for charter schools and mayoral control of education. That was the reformer talking. The status quo Mr. Duncan was on display last month when he let Congress kill a District of Columbia voucher program even as he was sitting on evidence of its success...

Mr. Duncan's help in New York is in stark contrast to his department's decision to sit on a performance review of the D.C. voucher program while Congress debated its future in March. The latest annual evaluation was finally released Friday, and it shows measurable academic gains. [emphasis added]
Even as Mr. Obama was allowing the vouchers to be killed on the grounds that there was no proof that they worked, his own education secretary had proof of vouchers' success on his desk. Black children learn better in better schools, just like white children.
The teachers' unions are wrong - it's not the money, it's not the kids, it's not even loser parents, it's the union-monopolized and unaccountable public schools that fail poor children!
Rather than tell this unpalatable truth, Mr. Obama covered it up to support the political goals of the teachers unions - sacrificing the hopes and the future of 1,700 inner-city black children, two of whom share the same classroom as Mr. Obama's own daughters.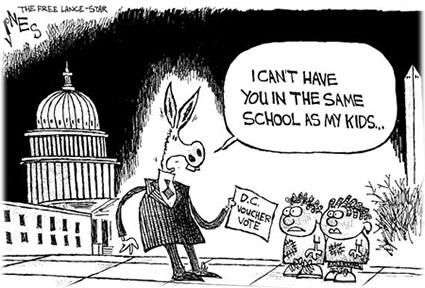 The Obama administration knew the voucher program was working and concealed the evidence from the world. Virtually every DC politician believes that private schools are better; almost without exception their own children attend private rather than public institutions. Now the hard, impeccable, unimpeachable scientific proof was at their fingertips, and they sat on it.
We are constantly told by the left and their allies on judicial benches that any action which has a "disparate adverse impact" on minorities, regardless of intent, is a racist action by law. If any policy has a bad effect and most of the people on whom it has a bad effect are members of a racial minority, it's illegal - at least, so say the courts.
99% of the 1,700 children in the scholarship program were black. The test results known to the government show that these black children were doing better in private schools than in public schools.
The Democrats rammed through a requirement that they be sent back to public schools where they did not do as well, thrown out of the effective private schools that are once again the preserve of wealthy (mostly) white politicians' kids. Nearly two thousand black children would be directly harmed by this action - compared to a scant handful of white children.
Since killing the program hurts members of a minority group out of all proportion to its effect on whites, this would be a racist action by the liberals' own definition.
The DC public schools are overwhelmingly populated by black children with few if any natural advantages; as Booker T. Washington knew a century ago, there is no route up from poverty and degradation more certain than a good education. These 1,700 children were finally receiving the excellent education that is their due, and thanks to the racist deceit of Barack Obama's administration, they would no longer.
There is a partial gleam of hope. In what may be a first for recent times but, with luck, may become a trend, the inner-city parents of Washington D.C., black to a woman, came out to protest this injustice done them by Democrats. While it was ignored by the liberal mainstream media, of course, the protest wasn't entirely overlooked: it appeared on local TV stations, conservative outlets, and the Internet.
It must have hit home; in typical Washington fashion, Obama has released what he promotes as a compromise. Fox News reports his latest proposal:
President Obama will agree to extend a voucher program that pays for low-income children to attend private school in the District of Columbia, but only until the current enrolled students graduate. [emphasis added]
With this change, Democrats will be spared the politically problematic TV images of poor black children being thrown out of successful private schools. Those children who are already enjoying the vouchers will continue to do so until they graduate, and in all probability sally forth into the world to lead the successful, productive lives they deserve.
But no new children will be allowed in. For the rest of the D.C. student population, including the thousands already on the waiting list for vouchers, the schoolhouse doors have slammed shut.
By holding back the education of so many black children, Mr. Obama is ensuring that the white children in the better schools will continue to outperform them. He's promoting white supremacy!
Even his own black allies are recognizing that Barack Obama needs to be scrutinized and judged like any other leader. On that basis, we are forced to condemn Mr. Obama, his education secretary, and every Democrat who voted for this vile travesty as racists of the most reprobate sort.
Had they any decency - which, of course, they clearly don't - they would immediately resign in shame. Bull Connor and George Wallace would be proud, but nobody else should be.
If this nation has any decency, it will reject and repudiate this wicked crime in 2010 and in 2012 - if, that is, we can spread the news of their contemptible deeds to every voter. "For the children!"
It's a great slogan, and it works both ways.