Some time back, CNN quoted a politician and asked who said it:
"I think the best way of doing good to the poor is not making them easy in poverty but leading them or driving them out of it."
Every politician talks about poverty because it's become a serious issue - regardless of morality, our many entitlement programs are taking our society down. There is also a human cost. The US Census Bureau says that nearly a third of the residents of Detroit and Buffalo live in poverty as the government defines it. This is such a waste of human potential that both liberals and conservatives agree that Something Should Be Done.
Nobody claims to be pro-poverty, but if you ask for solutions, ideas break down along party lines. Liberals want to increase taxes to give more to the poor, conservatives want to create opportunities and nudge the poor into jobs by cutting welfare as Pres. Clinton did.
Liberals and conservatives have thundered rhetoric at each other for years, but we finally have some facts. CNN gave the US Census rankings for cities with the most poverty and showed how long these cities have been run by Democrats:
Poverty
Rank
City
Democrat
Since
1
Detroit, MI
1961
2
Buffalo, NY
1954
3
Cincinnati, OH
1984
4
Cleveland, OH
1989
5
Miami, FL
forever
6
St. Louis, MO
1949
7
El Paso, TX
forever
8
Milwaukee, WI
1908
9
Philadelphia, PA
1952
10
Newark, NJ
1907
Five of our poorest cities have been led by Democrats for more than 45 years. The two other cities on the list, Miami, FL and El Paso, TX have never had Republican mayors. Not ever.
Correlation is not Causation
The fact that all of our very poorest cities are run by Democrats doesn't prove that Democratic policies lead to poverty, but it sure suggests it. Fortunately, sociologists and economists have studied some of our older cities long enough to figure out what's going on. We now know why Democratic policies lead to poverty.
Two Harvard economists described the "Curley Effect," named after Mayor James Curley of Boston who was elected to Boston's Board of Aldermen in 1904 despite being in prison on a fraud conviction when the election was held.
Mayor Curley showed Democrats how to win elections by taxing productive people and channeling the proceeds to less well-off groups. This bought Irish votes. As taxes went higher, productive citizens who tended to vote Republican fled to the suburbs, which tipped the balance further and further in favor of Democratic candidates.
In cities like Baltimore and Detroit, registered Democrats outnumber Republicans by 8 to 1 or more. Is it any wonder that they've become single-party cesspools with no hope for change?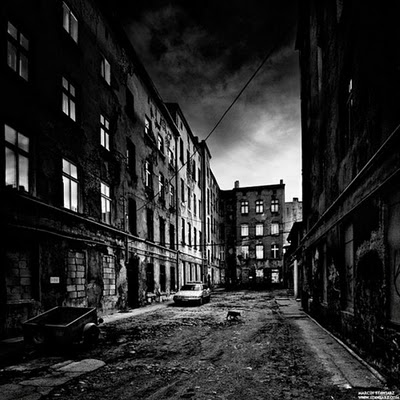 The Democrat heartland.
Driving productive citizens away may be good politics but it isn't good economics. 100 years ago when Henry Ford introduced the Model T, Detroit was the "place to be" for ambitious entrepreneurs. Tens of thousands of blacks were drawn from the South to fill well-paying jobs in the industrial North. After years of liberal misrule, Detroit has fallen so far that "black flight" has become common and major parts of the city are turning back into wilderness.
Baltimore hasn't suffered quite as badly, but it, too, shows the damage done by Democratic policies. In 1950, Baltimore's median income was 7% above the national average; in 2011, after 48 years of Democrat misrule, it's 22% below.
Boston, where the Curley effect originated, was in worse shape in 1980 than Baltimore is now, although it never got as bad as Detroit or Newark. In 1980, Boston's population had fallen 30% in the preceding 30 years and its crime rate was higher than Baltimore's today. Now, Boston is booming and crime has dropped.
What turned it around? Did Republicans take over city hall? Not exactly; state voters trimmed the excess taxes and productive people moved back in.
Massachusetts voters finally had enough and adopted a Proposition which forced Boston to cut taxes by 75%. Just as California's Proposition 13 cut taxes enough to revive San Francisco and Oakland, people returned to Boston. Its population rose 10% since 1980 and its crime rate is now 25% lower than Baltimore's.
Alas, tax reform seldom comes from within. In Baltimore's election last Sept. 13, the incumbent, who'd promised an inconsequential tax cut of 2% spread over 9 years, won re-election just as a classic big-city Democrat won the Mayor's office in Washington, DC.
Turnarounds in Boston, San Francisco, and Oakland couldn't come from within because the Democratic political machine had too much muscle after so many years of robbing the cities and driving away affluent voters. It took statewide initiatives to slash tax rates so that the cities could survive.
Mayor Curley Lives On
These turnarounds happened in spite of the best efforts of the Democratic political machines. The positive effects of slashing tax rates after years of boosting taxes "to benefit the poor" and the staunch Democrat opposition to such proven common sense demonstrates that the Curley effect is alive and well.
Taxing the productive to buy votes from government employees and the unproductive is good politics - it supported Democratic machines for decades on end - but it wrecks societies where Curley machines become entrenched. Even though Democrats raise taxes in the name of helping minorities and the less well off, the latest census showed that minorities are leaving high tax states for places with lower taxes and fewer social programs but more jobs.
By the way, the quote about forcing the poor out of poverty which opened this article? It was from that arch right-winger Benjamin Franklin.
The trouble, as Franklin clearly foresaw, is that most poor folks would rather take government handouts than lift themselves out of poverty. The heavy lifting of growing up, taking responsibility, and doing it yourself is just too much work for anyone to do it if they don't have to, as any parent knows.
Democratic policies are society-killers over time. Let's hope our voters understand that in 2012.