Media outlets blared the story of JP Morgan Chase losing $2 billion on trades that didn't go quite as advantageously as they'd expected. The Wall Street Journal quoted Jamie Dimon, the boss at JPMC:
The bank's strategy was "flawed, complex, poorly reviewed, poorly executed and poorly monitored," Mr. Dimon said Thursday in a hastily arranged conference call with analysts and investors after the stock-market close. He called the mistake "egregious, self-inflicted," and said: "We will admit it, we will fix it and move on," he said.
This is a rare black eye for Mr. Dimon, whom some have called the "King of Wall Street."
One of the more revealing quotes came later in the article. In its most recently quarterly filing with bank regulators, JPMC said that its plan for hedging risks "has proven to be riskier, more volatile and less effective as an economic hedge than the firm previously believed."
Mr. Dimon's minions got their math wrong - they lost $2 Billion on a $200 Billion position. That's only a 1% error, what's all the fuss about?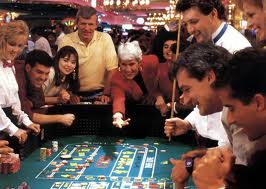 Hey, that's my money you're gambling with!
Unknown Risks
Mr. Dimon is known as a hands-on manager, involving himself deeply in the detailed operations of his 270,000 employees. He impressed the New York Times Magazine so much that their article about him made him seem like a banking genius. His leadership preserved the bank's profitability and stock price through the downturn. He's clearly smarter than the average - but he presided over a multi-billion dollar mistake anyway.
John Corzine's similar downfall demonstrates that underestimating risks is a non-partisan matter. Mr Corzine was a well-connected former Democratic Senator and Governor of New Jersey whose bets on European government bonds took down his trading firm MF Global. More than a billion dollars worth of customers' money went missing in spite of intense regulatory scrutiny. Despite his connections to the highest levels of the Obama administration which gave him insider knowledge of our policy towards European debt, Mr. Corzine lost big.
In the aftermath of the 2008 banking crisis, Rep. Barney Frank and Sen. Chris Dodd, who'd done much to bring on the crisis by letting the taxpayers guarantee mortgage loans to people who couldn't pay them back, crafted a new regulatory regime.
Among other things, the resulting monster known as Dodd-Frank tries to make sure that when banks trade stocks, bonds, and other financial instruments "for profit" as opposed to helping customers buy and sell them, they have to follow much stricter rules. The idea is that customers can risk their own money on anything no matter how crazy, but we can't let banks take risks with depositors' money.
Unfortunately, as every banker with a voice in Washington pointed out, it's not possible for the law or for regulators to define "excessive risk." Mr. Dimon couldn't do it - if he'd known his traders were getting into risky territory, he'd have told them not to. Mr Corzine thought his bets were OK or he wouldn't have made them.
When bankers declare that regulators aren't smart enough to regulate trading, they're right. We agree that regulators aren't up to the job - they couldn't even catch Bernie Madoff before he confessed.
Systemic Risk
Pro-regulatory voices point out that when a well-managed bank like JPMC loses $2 billion unexpectedly, Something Must Be Done. The New York Times explained how banks reacted to the Dodd-Frank threat to their trading profits:
Soon after lawmakers finished work on the nation's new financial regulatory law, a team of JPMorgan Chase lobbyists descended on Washington. Their goal was to obtain special breaks that would allow banks to make big bets in their portfolios, including some of the types of trading that led to the $2 billion loss now rocking the bank.
JP Morgan Chase made an especially strong push to be allowed to make trades to offset the risks of their trading positions:
"JPMorgan was the one that made the strongest arguments to allow hedging, and specifically to allow this type of portfolio hedging," said a former Treasury official who was present during the Dodd-Frank debates.
The banks are correct in saying that they have to hedge trading positions. Suppose Japan Airlines agrees to pay 100 million when Boeing delivers a new jet 5 years from now. JAL does business in Japanese yen. If the yen is up 5 years from now, it will cost them less yen to buy the jet and they'll be OK, but what if it's down?
Being an airline instead of a currency speculator, they don't want to take the foreign exchange risk. They'll want to pay, say $101 million worth of yen now to someone who'll promise to pay Boeing $100 million when the jet is delivered. JAL pays $1 million worth of yen today, or 1%, plus 5 years of interest, to pay someone else to take on the risk of a foreign exchange problem.
How do banks come into this? JAL is a global business and wants as few vendors as possible. They want to deal with one bank that can handle their needs in all countries where they do business. They'll want their lead bank to promise to pay Boeing 5 years from now instead of going to a specialist.
Dealing with getting money from here to there is what banks do - that's the business they are in, by definition. Handling JAL's Forex needs is, in principle, no different from when you go to your bank and order up a batch of British pounds for a London vacation. However, again by the very nature of the business, taking care of JAL's Forex risks automatically puts the bank into the trading business - they have to buy and sell currency futures to meet their customers' needs.
This is wonderful if the risks balance out. If JAL buys $100 million worth of jets 5 years out and a US company contracts for $100 million worth of Japanese nuclear reactors in 5 years, the risks cancel each other and the bank makes money on both deals.
Normally it's not so neat. What if the bank ends up owing millions or billions of US dollars 5 years out without matching yen deals and doesn't want to bear the risk itself? The bank will want to hedge their risk by paying someone else to give them dollars in 5 years.
Mr. Dimon is completely correct in saying that banks have to be able to buy and sell hedges against whatever trading positions they might happen to have. It would be impossibly risky for them to do any foreign transactions otherwise, and presumably even our current regulatory regime doesn't want to actually destroy international trade.
Mr. Dimon is completely correct in observing that regulators aren't smart enough to define excessive risk - not even he or Mr. Corzine can do that, and they're paid salaries many thousands of times larger than government bureaucrats get.
Mr. Dimon argues that, therefore, the part of Dodd-Frank that restricts trading should be repealed.
We do agree with Mr. Dimon that that particular part of Dodd-Frank ought to be repealed, and arguably the whole thing, because it's an unworkable mess that accomplishes nothing useful.
But we most emphatically do not agree with Mr. Dimon that banks whose deposits are guaranteed by the taxpayers ought to be permitted to take whatever risks they desire. As Barney Frank put it,
"The argument that financial institutions do not need the new rules to help them avoid the irresponsible actions that led to the crisis of 2008 is at least $2 billion harder to make today." New York Times quote of the day, May 12, 2012
Mr. Frank is right for once, but his chosen solution of having regulators dream up a rule to limit risk is simply unworkable. Since nobody can measure risks accurately, we believe that banks ought to be forbidden to trade at all.
The Peter Pan Theory of Regulation
This isn't a new idea - this has all happened before and it will all happen again. After the banking system seized up after the crash of 1929, a couple of smart senators passed the Glass-Steagall law in 1933. In addition to setting up the FDIC so that the government would guarantee bank deposits and prevent bank runs, this law banned deposit banks from trading.
A bank could take deposits and make loans, but it couldn't trade financial instruments on its own behalf or for anybody else. If a bank desired to trade financial instruments, it could - but in that case it was forbidden from taking anyone's deposits, and wasn't guaranteed by the FDIC. That type of bank was called an "investment" bank.
In short: an individual could either do "normal" banking thinks like take deposits which carry government guarantees, or play with the big boys on Wall Street, but not both. The idea was explicitly to keep banks from gambling with money insured by the government, and it worked fairly well for many years.
Trading is a lot more profitable than banking and makes much bigger bonuses possible. Banks in 1933 didn't like being shut out of trading any more than bankers in 2010 liked having trading limited by Dodd-Frank. Over time, lobbyists persuaded regulators to allow "bank affiliates" to trade and set up subsidiaries to do the trading they weren't allowed to do themselves. By the time Glass-Steagal was repealed in 1999 under Bill Clinton, it was effectively dead.
What threatened to take down our entire financial system? The banks had gotten into risky trading positions, just as JPMC did. If the banks had gone down, the losses would have been so huge that they'd have taken down the Federal Deposit Insurance Corp and the economy would have seized up as in 1929.
This wasn't because bankers were unusually greedy - do we really think that today's bankers are somehow greedier or more evil than the ones alive in 1960, 1929, 1880, or, heck, 1400s Medici Italy? Of course not - they were greedy human beings then and they're greedy human beings now.
No, the outsized problem arose because President Clinton had relaxed regulations which kept banks from gambling. He wasn't alone - at the time, we thought it was a great idea. We have since recanted.
We agree with the banks in their assertion that nobody can define risk well enough to regulate bank trading, and we agree with those who say that banks ought not to be allowed to put the economy at risk by making dangerous trades. JPMC proves that calling a trade a hedge doesn't make it any less risky.
The solution? Revive Glass-Steagall and bank banks from trading at all, in any way, for any reason. If not even Jamie Dimon can get his risks right, if not even Mr. Corzine can assess risks well enough to avoid huge losses, banks shouldn't take trading risks at all. If JAL has to find a Forex specialist instead of relying on their bank, so be it.
Taking deposits and lending money, OK. Shooting craps with our money, not OK. It's really that simple.