To nobody's surprise, Donald Trump has announced that, once again, he's not running for President. Apparently business and money remain his first love, and the celebrity game requires all his concentration.
"The Apprentice" renewal disputes aside, though, there's a far more bizarrely logical and powerful reason for Mr. Trump not to actually run for anything: He can't run for office and still be Trump.
Blind Trusts and Lying Libs
Remember all the lefty complaints a few years back about how Dick Cheney was starting wars for the benefit and profit of his stock in Halliburton, via which he would no doubt become even more insanely rich than he already was?
Those accusations were lies, of course, but not for the reason you might expect. Nobody appreciates self-dealing politicians who funnel your tax dollars back into their pockets so we've done something about it.
Almost all modern politicians are rich, and some are very rich; usually this wealth is in corporate stocks. Our government has gotten so big and so intrusive that there are very few large companies left which don't have business with the federal government. Even those that don't deal with government directly can be benefited or harmed by government policies. Thus, any action by any government official benefits or harms someone's stock portfolio. This is why there are so many lobbyists. How do we keep elected officials from writing laws that benefit their stock holdings?
This problem led to the invention of the blind trust. Most major national politicians, upon being elected to office, put all their wealth into a special trust that's controlled by official trustees. The politician still owns the assets and can spend the cash, but he has no idea what his financial assets are.
The trustee makes all the investment decisions. He might sell the Halliburton stock and buy Whole Foods. He might invest in windmills, or electric cars. Or, of course, he might choose to buy shares in a West Virginia mountaintop-removal mining company.
The point is, the politician does not know, nor does the public. It's a secret, and the blind trustee has a duty not to tell anyone.
That way we can be sure that the politician isn't self-dealing - he has no way of knowing what will benefit or hurt his stock portfolio since he can't know what it is. There are still problems with politicians helping out their kids' companies or other friends and relatives, but they don't help themselves, at least not directly.
For almost all politicians, this solution works fine - most politicians have no business ownership experience.
Not Mr. Trump. His name is his business.
He That Filches From Me My Good Name
What business is Donald Trump in? He's known as a property investor, and yes, he owns a few buildings in New York.
Most of all, though, Donald Trump is a brand. There are Trump buildings all over the world, but as the New York Times reports, he has next to nothing to do with most of them:
But when three of the planned buildings encountered financial trouble, it became clear that Mr. Trump had essentially rented his name to the developments and had no responsibility for their outcomes, according to buyers. In each case, he yanked his name off the projects, which were never completed. [emphasis added]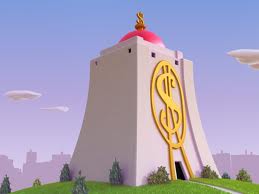 The Donald's new "name"...
if he can get the rights to it!
What makes people invest in these projects? The famous Donald Trump name. What makes people watch "The Apprentice"? The Donald's celebrity.
Yes, Mr. Trump has hard assets here and there but it's his name that makes him a billionaire. How on earth do you put Mr. Trump's name into a blind trust? His whole objective is to make his name as notorious and celebrated as possible so he can charge more; being President would be no end of help in keeping his name before the public.
Talking about a run for the president makes his name more valuable, but actually running for president and following all the myriad ethics laws would destroy Mr. Trump's fortune.
The only legal way to really make his assets blind would be for Donald Trump to give up his own name, let the blind trustees sell the rights to it, and invest the money in something less prominent and more easily kept secret. If you think The Donald would for one moment consider doing that, there's a bridge over the East River we'd like to sell you.
Would The Donald by any other name be half so prominent? Hardly, after he's invested so many decades in making his name a household word.
No, even compared with other infamously loony Hollywood personalities, becoming "the candidate formerly known as Trump" would make him seem to be a few bricks shy of a load. There is, however, one non-alphabetical and unpronounceable symbol which would suit Mr. Trump nicely and which government at all levels always wants more of:
$
Who knows? If $ appeared on the ballot, voters might go for it. They certainly seem to like seeing it elsewhere!
Alas, that symbol has been taken by an animated web-footed waterfowl who already has a nephew named Donald. Too bad! No trust, no prez!