Today is Thanksgiving, and in keeping with our tradition we discuss something for which, as Americans, we can all give heartfelt thanks.
The obvious candidate, of course, would be the "electoral restraining order" issued against our Socialist-in-Chief Barack Obama. But quite frankly, as grateful as we are for this urgently needed brake on our rush to statist tyranny, the recent Republican victory was only the merest of beginnings.
One year ago, we gave thanks for President Obama. We were grateful because by giving America an undiluted taste of neo-Marxist socialism, he awakened the vast sleeping middle of the country by cramming its nauseating flavor down their throats. The repudiation visible even then is unmistakable now, and, we trust, will continue to build in strength and force.
An ongoing reminder is always in order, though, as Americans are an easily-distracted people. It's possible that the new Republican Congress will be so successful in stopping Mr. Obama's agenda that the economy will recover enough for the mainstream media to falsely credit Mr. Obama with bringing about prosperity.
Fortunately for the nation, the people of California have ensured that the socialist dream will continue unabated in their unfortunate state: They have placed in office Governor Jerry "Moonbeam" Brown who presided over the Golden State's customized edition of Carter's stagflationist misery that it's taken three decades for Californians to forget. Things must be too good for Californians: they want another helping of government-grown misery from the very governor who, three decades ago, put California on the track to bankruptcy.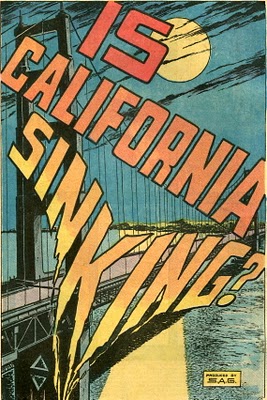 Why, yes. Yes, it is.
The State of California is plainly collapsing under the weight of the exactions of unionized government employees. How did this come to pass? In 1978 Gov. Jerry Brown signed legislation allowing public-sector workers to unionize for the very first time, even though no less a labor luminary than George Meany said, "it is impossible to bargain collectively with government."
What's wrong with unionized public workers, you ask?
In a normal company, there is an inevitable conflict between management and any unions. The unions naturally enough want more pay; management knows that pay increases come out of profits and future growth so they try to oppose them.
Generally they meet somewhere reasonable in the middle. Occasionally the union goes out on strike, in which case management either hires cheaper replacement workers or sweetens the deal.
In no case can management pay workers more than they are worth, however, at least not for very long; if the company is not able to make enough money to pay the union wages it goes out of business. This is an automatic death sentence to that particular greedy union local, and there's not much good for the executives at the helm when the ship sinks either.
Public-sector unions have no such automatic check-and-balance. They can merrily demand whatever wages they think they can get, and their "bosses" in the legislature can merrily give it to them because government workers do not have to do anything productive. Not enough money? Just extract more taxes at the point of a gun! That's why in 2009, total federal worker compensation including benefits averaged $123,049, or double the private-sector average of $61,051.
Epitaph for Public Sector Unions
Thus we see the corrupt "iron triangle" of union-based politics. The public-sector workers are forced into unions whether they like it or not, and are forced to pay union dues whether they want to or not.
The unions bosses take the millions of extracted dues and, after skimming off enough to support a lavish lifestyle, invest the remainder in electing Democrats.
The elected Democrats who benefit from union largess naturally tend to be loyal to the desires of their paymasters. What do union bosses want? Two things: more (unionized, dues-paying) government workers and higher salaries for them, the public be damned.
The inevitable consequence is ever-higher taxes to pay the union bill and ever more constrictive regulations to boot - after all, all those useless government minions have to find some means of apparently justifying their existence.
So, on the verge of collapse and bankruptcy, with businesses and the productive fleeing California only to be replaced by welfare leeches and illegal immigrants, what did California voters do? The voters chose the obvious solution - and doubled down. They picked a governor who is not only wholly owned by the unions and committed to securing their ill-gotten gains come what may, he was the very selfsame governor who created the problem in the first place before many of today's voters were even born.
Jobs and employers are fleeing California because it has the worst business climate in America. The voters responded to their concern by crushing an attempt to halt the economy-demolishing (and entirely fraudulent) "Global Warming Act of 2006" and picked a governor dedicated to its wholehearted enforcement.
Last time Jerry Brown ran the state, his unofficial motto was If you don't build it, they won't come; this time around, it's more "Destroy it and they'll go away." Which taxpaying Californians are, in droves.
In New Jersey, Gov. Chris Christie is providing a case study of how to save a collapsing, bankrupt, utterly corrupt, union-infested state. There's no education like a contrast: Gov. Jerry Brown in California is kindly providing one and it looks like Gov. Cuomo in New York will help him drive the point home. We trust that the Tea Partiers will make sure that all America is kept informed of the difference as noisily and as vividly as possible.
We have friends and relations in California for whom we grieve. For them, the only grounds for thanks is the wisdom of our Founders in establishing a federal republic - so they can move to another less mis-governed state, as we've been exhorting them to do for years.
For the rest of us, however, California's cautionary tale will be a daily reminder of why unions, liberals, statists, and Democrats must be stopped and driven from power whatever the cost. Thank you, California - and thank you too, and so much more, Founders!