When Mr. Boehner walked out of debt ceiling talks with President Obama, both parties tried to spin their disagreement for political advantage. Mr. Boehner accused the President of wanting to spend so much money that the rank-and-file Republicans wouldn't go along with his plans. He said that Mr. Obama wanted to raise taxes too high and wouldn't make fundamental changes to the entitlement programs that Scragged believes are bankrupting us.
For his part, Mr. Obama asserted that the Republicans wanted to hurt the poor while preserving "tax cuts for the rich."
The commentators have responded according to their points of view - liberals want to raise taxes so the government can spend even more money, conservatives want to cut both taxes and spending. This is as we expected.
We didn't expect the New York Times to suggest that Mr. Obama violate the law and issue debt on his own authority:
President Obama should announce that he will raise the debt ceiling unilaterally if he cannot reach a deal with Congress. Constitutionally, he would be on solid ground. Politically, he can't lose. The public wants a deal. The threat to act unilaterally will only strengthen his bargaining power if Republicans don't want to be frozen out; if they defy him, the public will throw their support to the president. Either way, Republicans look like the obstructionists and will pay a price.
This isn't the first time we've seen liberal media bemoaning the Republican's desire to stand by their campaign promises to cut spending. When Republicans tried to stop President Clinton's spending, Mr. Clinton vetoed their entire budget. This cut spending to zero and shut down the government.
The public didn't like that and blamed the Republicans, egged on Mr. Clinton and his media sycophants. Today's media and administration plan to do the same again if the Republicans refuse to give them the money they want. That's why the recent budget "deal" contained such insignificant cuts.
This time, however, the Republicans have an opportunity to force a spending cut of about 30%. If they don't raise the debt ceiling, spending will be limited to what comes in via taxes, about 2/3 of what Obama's become accustomed to spending.
Instead of shutting down the entire government, Mr. Obama would have to shut down merely a third of it. He'd choose which third, of course, and would take the opportunity to reward his friends and punish his enemies - but a spending cut is a spending cut, and it would be perfectly clear who chose to leave our soldiers shivering in their skivvies on the sands of Arabia.
Or so you'd think, but the Times believes that even that would result in a political gain for Mr. Obama. Given that the mainstream media will blame the Republicans with one voice, they may be right.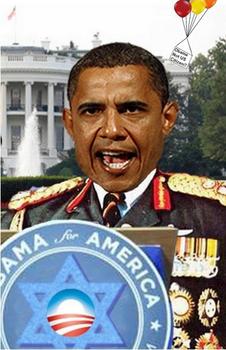 Advocating Tyranny
The Times breaks new ground, however, in suggesting that Mr. Obama should simply ignore the debt limit law and borrow more money on his own authority. They claim he'd be on solid Constitutional ground:
When Abraham Lincoln suspended habeas corpus during the Civil War, he said that it was necessary to violate one law, lest all the laws but one fall into ruin. So too here: the president may need to violate the debt ceiling to prevent a catastrophe — whether a default on the debt or an enormous reduction in federal spending, which would throw the country back into recession.
There are a couple of differences. Mr. Lincoln didn't claim that he was acting within the Constitution; he stated clearly that was going to "violate one law." Naturally, he got sued, and the Supreme Court slapped him down, but it took several years to get to that point by which time Lincoln had mostly accomplished what he set out to do.
What's more, Lincoln was in the middle of a war, and even our Founders clearly understood that occasionally, desperate times call for desperate measures. We're in several wars too, except that the ruling Democrats have said for years that we aren't actually in a real war so they can't use this excuse.
Would being abruptly forced to live within our means dump us into anarchy? Of course not. Cutting spending by 30% would put us back at the spending levels of 2002, a time when nobody starved, most poor people had air conditioning, and the Federal government still reigned supreme.
The Times continues with their tired old argument that only government spending can rescue the economy, completely disregarding the job-destroying effects of Mr. Obama's regulations and programs. It doesn't seem to occur to them that if Mr. Obama disregarded the laws which were passed by the Senate and the House of Representatives and signed into law, he'd be taking power as an unlimited tyrant.
We've argued that if government can require us to buy health insurance to their specifications, there's no limit to what government can require of us. If Mr. Obama can break the law and issue billions in new debt, what can't he do? All power would reside in him.
When all power passes to a single man, we have a tyranny which is neither a democracy nor a republic. Is this what the Times really wants? Someday they'll disagree with His Imperial Majesty and learn too late the error of their ways.