There are many reasons to oppose greater government influence over our lives. We've pointed out over and over that government doesn't do anything efficiently from delivering mail to running railroads. Government waste has been with us since the dawn of time; it's not news, it's merely inconvenient.
Consider, however, our dependence on foreign countries to supply our energy needs. Our government can't keep foreign countries from pumping their own oil and selling it to us - nor should it try to - but it's done such a good job of discouraging oil companies from drilling in the US that we're swimming in recoverable fuels which we can't touch because we might harm the odd fish or two. Meanwhile, we ship trillions of dollars overseas to our enemies who are perfectly happy to pump their own oil, sell it to us, and use some of the money to attack us.
Scragged has pointed out that one of the most important reasons to fight government involvement in anything is that the more power government has, the more opportunities there are for crooked behavior. We don't often see government bureaucrats ratting each other out because they don't want to remind us how much their interests differ from ours, but in "F.D.A. Reveals It Fell to a Push by Lawmakers," the New York Times reports:
The Food and Drug Administration said Thursday that four New Jersey congressmen and its own former commissioner unduly influenced the process that led to its decision last year to approve a patch for injured knees, an approval it is now revisiting.

The agency's scientific reviewers repeatedly and unanimously over many years decided that the device, known as Menaflex and manufactured by ReGen Biologics Inc., was unsafe because the device often failed, forcing patients to get another operation.
The FDA reported that "extreme pressure from Democrats on Capitol Hill damaged the integrity of the process." The New York Times named the politicians involved:
But after receiving what an F.D.A. report described as "extreme," "unusual" and persistent pressure from four Democrats from New Jersey - Senators Robert Menendez and Frank R. Lautenberg and Representatives Frank Pallone Jr. and Steven R. Rothman - agency managers overruled the scientists and approved the device for sale in December.

All four legislators made their inquiries within a few months of receiving significant campaign contributions from ReGen, which is based in New Jersey, but all said they had acted appropriately and were not influenced by the money. Dr. Andrew C. von Eschenbach, the former drug agency's commissioner, said he had acted properly. [emphasis added. Anybody who believes legislators aren't influenced by money must wonder why they bother to keep raising their own salaries - Ed.]

The agency has never before publicly questioned the process behind one of its approvals, never admitted that a regulatory decision was influenced by politics, and never accused a former commissioner of questionable conduct.
The FDA scientists claim that they objected to the device because some patients had to have another operation because the device failed; it was approved after the politicians got involved.
This sounds like the sort of classic New Jersey corruption we've been reading about, doesn't it? Honest, hard-working, objective, FDA scientists get overruled by corrupt politicians and let a questionable medical device onto the market.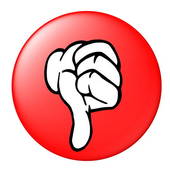 It's not that simple. The device was approved in Europe long ago and nearly 3,000 Europeans have received it. The maker has trained surgeons to use it and nearly 30 Americans have received the operation.
The FDA claims that current procedures for approving medical devices are inadequate and that they need to look at medical devices more closely, which would - surprise! - require a larger budget and more staff and result in fewer devices being available at greater cost. At the very least, though, this will cut pension costs when patients die younger. The Times reports:
In January, the Government Accountability Office concluded that it was long past time that the agency demanded that manufacturers prove that all complex devices are safe and effective before being approved for sale.
As we've mentioned before, it's impossible to prove that any new medical treatment is either safe or effective without trying it on lots of patients. Not only does that cost a huge amount of money, but what about the health of all those patients the new device is being tried on?
The FDA uses that approach when approving drugs and they want to apply the same methodology to medical devices. Let's look at their record and see how the drug approval process has worked out.
Cancer War Stalled
President Nixon declared war on cancer 40 years ago, but, as the New York Times says, "cancer death rates have hardly budged and most new cancer drugs cost a fortune while giving patients few, if any, added weeks of life."
The FDA's cancer drug office has become the target of a great deal of criticism.
Patient advocates have called Dr. Pazdur, director of the Food and Drug Administration's cancer drug office, a murderer, conservative pundits have vilified him as an obstructionist bureaucrat, and guards are now posted at the agency's public cancer advisory meetings to protect him and other committee members. [emphasis added]
Sick people are so frustrated at the slow rate at which cancer drugs are approved that armed guards are needed to protect the bureaucrats who make the decisions? Does this suggest anything about how people will feel if Obamacare becomes law in its present form and all medical decisions are subject to such bureaucratic scrutiny?
"The industry is not producing that many good drugs, so now they're looking for scapegoats in Rick Pazdur and the F.D.A.," said Ira S. Loss, who follows the drug industry for Washington Analysis, a service for investors.
As the Times explains, part of the reason there are so few drugs is that it costs so much to get a new drug approved.
In 10 years at the Food and Drug Administration, Dr. Pazdur, 57, has helped to loosen approval standards for cancer medicines and made it easier for dying patients to get experimental drugs. But he demands that drug makers prove with near certainty that their products are beneficial, a requirement that he repeated at a public advisory hearing on Sept. 1 in the slow, loud tones of someone disciplining a dog. After he spoke, the committee of experts voted to reject both drugs.
Dr. Pazdur's position seems reasonable - who wouldn't want ineffective drugs kept off the market? - but medicine just isn't that simple. In "Diabetes Case Shows Pitfalls of Treatment Rules," the Times reported that a national guideline-setting group withdrew guidelines for efforts to lower blood sugar in diabetes patients because a new study showed that rapid blood sugar reduction harmed or killed some patients.
Groups who opposed the original guidelines are criticizing the committee all over again, claiming that the committee received $3 million from drug makers who wanted to sell drugs such as insulin that lower blood sugar. It's our government-sponsored food fight all over again, yet another example of government regulation leading to corruption - or, worse, bureaucrats making decisions on issues when no human being can possibly know what the right answer is for the entire population.
On life-and-death decisions, why should some bureaucrat make the choice for you? If you and your doctor decide to use an experimental drug and it doesn't work, at least you made up your own mind and were master of your fate. With some nameless, faceless bureaucrat denying you the right even to try some new drug when you're dying, it should be no surprise that drug regulation has roused passion:
Critics say that Dr. Pazdur's resolve has cost thousands of lives and set back the pace of discoveries. "Patients are right to be angry and frustrated with Richard Pazdur," said Steven Walker, co-founder of the Abigail Alliance, a patient advocacy group. "He is a dinosaur."
Experts can't agree on guidelines for treating diabetes, a far simpler disease than cancer. Cancer patients are so incensed at the FDA cancer office that their meetings have to be protected by armed guards!
The smaller question is whether or not we want the FDA to subject new medical devices to the same sort of scrutiny which has enraged cancer patients.
The larger question is whether we want the government more involved in medical decisions at all. Available evidence suggests that government is no better at medicine than at running railroads, the post office, or automobile companies. Why should we let them take over health care?